We've spent months searching for a high-quality respirator face mask (not a surgical mask which offers the wearer very little protection against airborne viruses.) We have now managed to procure stock of the Respiratory BioMask, a fully certified FFP1 respirator with multi-layer filtration that blocks airborne particles as small as 0.3 microns. An HSE study has shown that surgical masks provide a six-fold reduction in exposure to aerosolised influenza virus. The same study showed that a well-fitted respirator can provide at least a 47-fold reduction in exposure.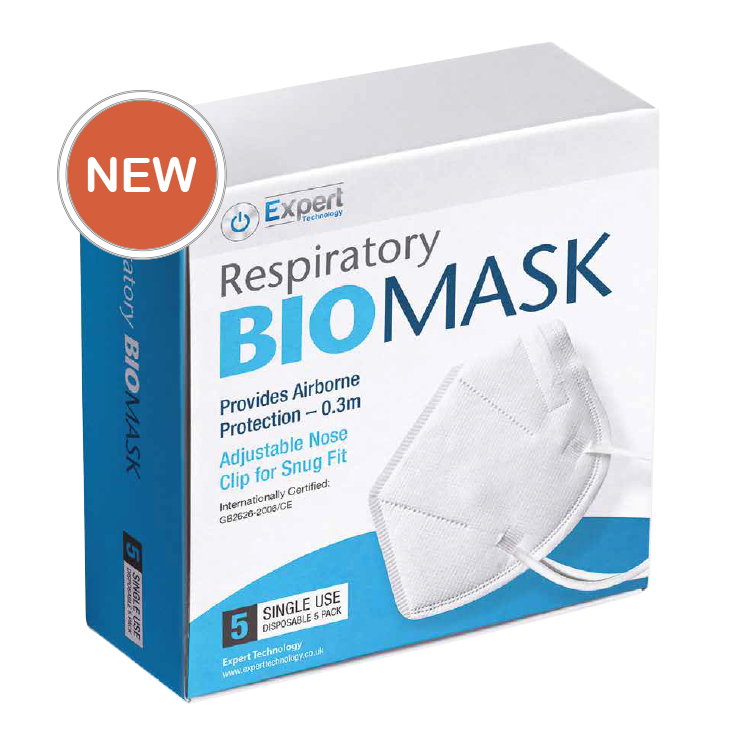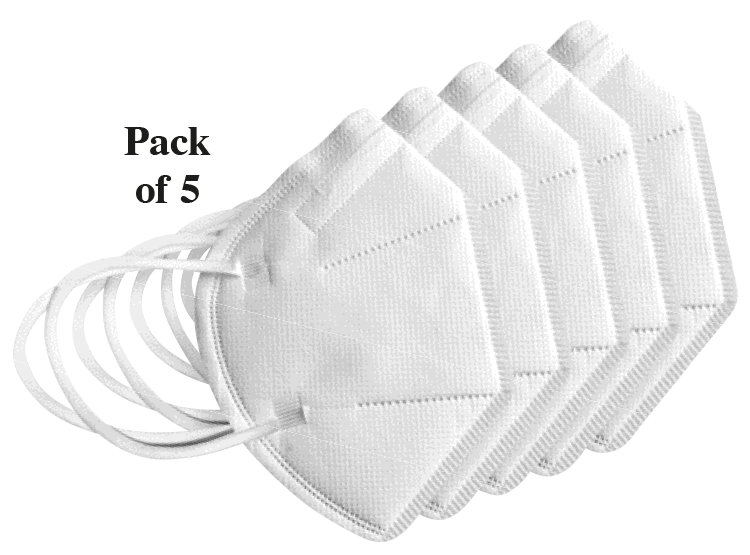 Stringent certifications

Surpasses international standards for performance

Flexible, comfortable and non-irritating with mouldable nose clip

Snug fit for 360° airborne protection

Made of 100% virgin materials

Multi-layer, non-woven construction with PTFE membrane

3-year shelf-life while sealed in bag

Single use, one-size mask

Will remain effective for 8-10 hours. If used intermittently for short periods over several days, care should be taken to avoid contamination when removing and re-fitting the mask. Wash hands after each use

Available in packs of 5
"Our findings show that surgical masks provide around a 6-fold reduction in exposure. Live viruses could be detected in the air behind all surgical masks. By contrast, properly fitted respirators could provide at least a 100-fold reduction"
HEALTH & SAFETY EXECUTIVE UK
A vast improvement on cheap face masks and surgical masks.
This EN149-certified BioMask protects you from airborne contaminants and filters out particles, down to 0.3μ (microns)
Masks and Respirators: What you need to know
Fact #1: Washable facemasks may look great but offer very little filtration or protection. Particles can pass through easily, those around you are poorly protected if you cough or sneeze, and airborne contaminants are hardly filtered at all as you breathe in.
Fact #2: According to the Health and Safety Executive (HSE), surgical masks offer a six-fold reduction in exposure to airborne contaminants and are a step-up in terms of protection for the wearer and the community. This is entry-level PPE.
Fact #3: Filtration Face Piece (FFP) masks are respirators. A well fitted respirator creates a seal around the face and nose which inhibits inward leakage of contaminants. HSE studies show that respirators provide improved protection, with a significant reduction in exposure compared to surgical masks.

Fact #4: All respirators need to comply with EU standard EN149:2001 + A1:2009 for PPE, but they fall into three classes according to their effectiveness in filtering particles and reducing exposure. The WHO rates FFP2 and FFP3 respirators as being suitable for healthcare professionals who are in direct contact with Covid-19 patients and recommends that these masks be reserved for healthcare workers.
Fact #5: The BioMask Respirator has been tested and passed as compliant with the European Standard EN149:2001 and is classified as an FFP1 respirator mask. Published HSE studies show that the protection afforded by FFP1 respirators like the BioMask Respirator is over 7 times more effective in filtering contaminants than a surgical mask.
Fact #6: No mask or respirator can offer 100% protection against Covid-19. Every FFP respirator is intended to be used with other PPE supplies as part of a package of safety measures which include social distancing, frequent hand washing and the use of disinfectants.
The Expert Technology/SAIPOL BioMask Respirator
Face masks that are made of fabric come in all sorts of colourful variations. Our politicians seem to favour black, but there is an endless variety of colours and designs now available. All of these fabric face coverings satisfy the requirements of shops, surgeries, public transport, and other settings where social distancing may be difficult. The primary purpose of these masks is to reduce the spread of the virus by limiting the wearer's ability to infect others. However, fabric face masks do very little to protect the wearer from infection as inward penetration by small aerosolised particles can be high.
All certified FFP1 respirators have been subject to leakage tests conducted by EU notified bodies or laboratories. These tests measure total inward penetration of the filter material. To achieve a pass, FFP1 respirators have to meet a low inward penetration threshold. This explains why such masks are able to offer the user a higher level of personal protection by comparison with simple fabric face coverings.
Respiratory BioMask
| | | | |
| --- | --- | --- | --- |
| Packs Masks | No. of Masks | Price | Shop Now |
| | | | |
| | | | |
| | | | |
| | | | |
| | | | |
---
STAY HEALTHY
INDOORS AND OUT
---
The easy way to check pulse rate and blood oxygen levels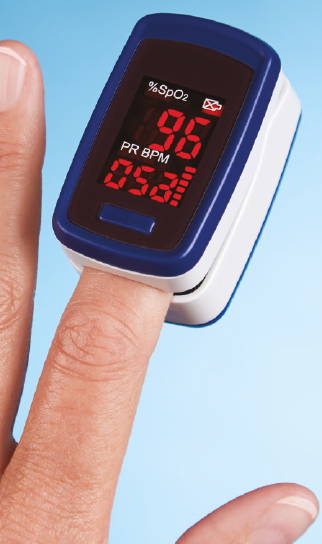 Checking your blood oxygen saturation (SpO2) and pulse rate is an important way to monitor your respiratory health in these worrying times, and essential for anyone with circulation disorders, COPD, sleep apnoea, asthma, palpitations or anxiety. Now you can do it quickly and easily. Simply pop this little device onto your finger, press the button and view the results on-screen within a few seconds, warning you if your oxygen levels or pulse rate are falling to a dangerous level.
Lightweight and reliable
Quickly checks blood oxygen levels and pulse rate
Clear LED display
11/3" x 21/3" x 11/5" (3.5 x 6 x 3cm)
Requires 2 AAA batteries, not included
"looking at patients in intensive care, it is very clear that the oxygen saturation is probably the best indicator that you may be developing serious problems as a result of the virus [Covid-19]"
PROF LIONEL TARASSENKO, UNIVERSITY OF OXFORD
Powerful spray eliminates 99.9% of viruses
from hard surfaces
Sanitise kitchen and bathroom surfaces, spray trolley handles at the supermarket, disinfect door handles and taps in public places. Sursol™ is a multipurpose, anti-bacterial and anti-virus surface spray cleaner and disinfectant that can help protect you from bacteria and viruses such as Covid-19, norovirus and salmonella. Its powerful, broad-spectrum, disinfectant formulation is designed to eliminate 99.9% of bacteria and viruses from surfaces and complies with EN 1276 (bacterial disinfection)
and EN 14476 (viral disinfection) testing standards.

Pack contains 500ml spray for the home and 50ml handbag size for when you're out, eg public transport, shops, restaurants etc.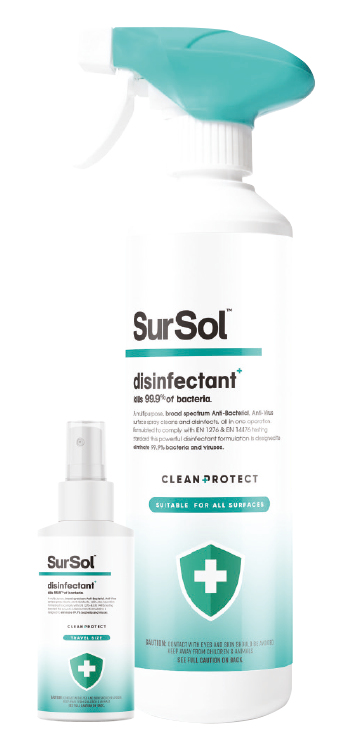 Duo Spray Pack (500ml+50ml)
'Gloves in a bottle' neutralises viruses for up to 4 hours after application
These British-made hand treatments are genuine game-changers. Far surpassing anything we've seen, the amazing Organic Skin Protector is certified 99.9998% effective within one minute of application in combating pathogens such as Covid-19. Applied to your hands, it creates a waterproof pair of 'invisible gloves' that go on working for up to 4 hours, and it's safe to touch infected surfaces because any viruses that come into contact with your hands are immediately neutralised. The Hand Cleanser is ideal for use at home or when you're out and have handled something like money or a petrol pump. Far better than soap or gel, it keeps your hands protected against 99.9998% of viruses, bacteria and fungi for up to an hour. Both are patented and have passed the rigorous EN14476 European anti-virus tests.
Patented anti-viral bactericide certified Medical Log 6

99.9998% effective against pathogens incl.
SARS, Norovirus and Salmonella
Organic mineral-based grade A materials
No bleach, alcohol, ethanol, solvents, petroleum or animal derivatives
Non-toxic and biodegradable
100ml Skin Protector gives approx. 100 uses; 100ml Hand Cleanser 100-200 uses

Viridi Organics Skin Protector (100ml)
Viridi Organics Hand Cleanser (100ml)
---
Ultra Clean Touch wet wipes kill 99.99% of common germs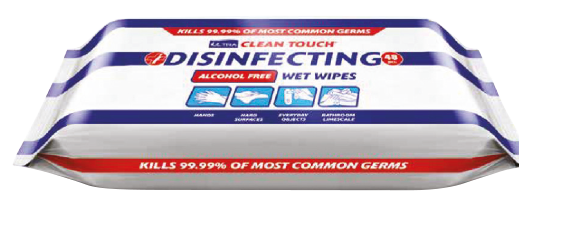 Disinfect hard surfaces, everyday objects and even your hands with these non-alcohol wipes. The action of wiping is a very effective way to fight germs, because it enables the disinfectant to reach all areas and kill microorganisms, whilst also killing any that remain on the wipe itself. Ultra Clean Touch antimicrobial wipes are perfect for wiping down parcels and packets before opening and are effective against yeasts, moulds, gram-positive and gram-negative bacteria and most viruses. They kill 99.9% of the most common germs and because they're alcohol-free they don't dry out your skin.
Resealable pack of 48 wipes – buy multi-packs and save nearly 50%.
Sanitising gel with 70% alcohol kills viruses and bacteria
It's almost impossible to get hold of sanitising hand gel from high street chemists or supermarkets, so we're delighted to have procured substantial stocks of this excellent formula. Unlike many others, it contains a super-effective 70% alcohol as recommended by the World Health Organisation, to clean your hands and protect them from viruses. It kills 99.9% of viruses, bacteria and germs, and is also suitable for treating minor cuts to disinfect the skin.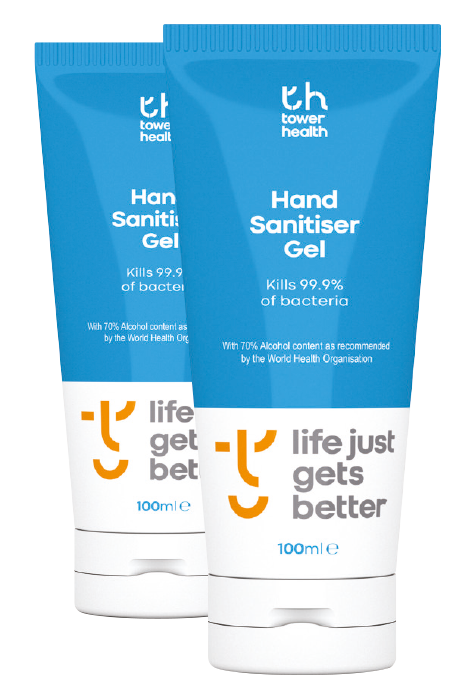 EF Hand Gel - 2 Twin Packs
Non-contact, intelligent and suitable for medical use
Built-in memory records last
32 measurements
Alarm function can be set to your own chosen alert level
Detection range 32.0° to 42.9°C with accuracy of +/- 0.2°C
Measures 16 x 9.5 x 4.6cm
Requires 2 AA batteries, not included
The non-contact medical thermometer
If you want to check that family members or visitors aren't running a high temperature, this is the most hygienic and accurate way we know of. The ThermoGun is an infrared thermometer that needs no contact with the skin. The medical-grade sensor is fast, accurate and easy to use, with a bright LCD display ideal for night-time use. Simply hold the 'gun' within 2.5cm of the forehead and press the trigger to get a reading. There are 3 different backlights for individual temperature ranges, so the display will turn Green for normal, Amber for a low fever and Red to indicate a high fever.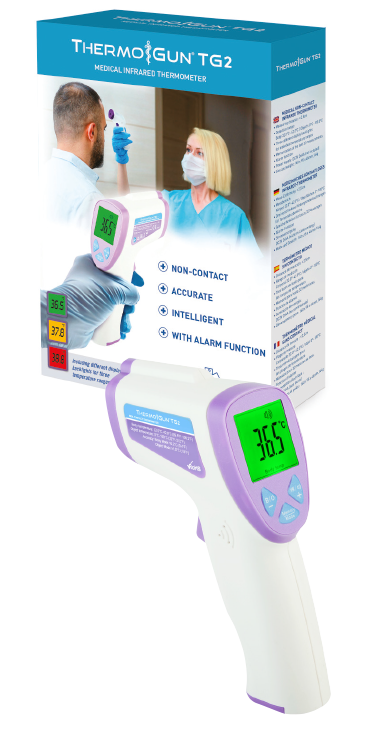 ThermoGun Non-Contact
Medical Thermometer