Making a Contract with Us

In placing an order for any of the items on our website you are agreeing to the terms and conditions listed below. Please read these terms carefully and print and keep a copy of them for your reference. If you have any queries regarding any of our terms and conditions, please contact our Customer Care Team at [email protected] or on our Enquiry Line 0330 912 4800 which is currently open 9am - 1pm Monday to Friday, excluding public holidays.
Calls may be monitored and recorded for training purposes. The information and conditions shown on our websites do not affect your statutory rights.
The Expert Verdict website and catalogue are managed by Scotts (2023) Ltd Reg. No. 10888001 (England) trading as Expert Verdict. Registered Office: Wool Overs House, Victoria Gardens, Burgess Hill, West Sussex, England, RH15 9NB. © Scotts (2023) Ltd 2023. English law applies to all orders placed on this website, and any disputes will be heard in the courts of England and Wales. When you place an order online with us you are making an offer to buy our goods. If we have your email address, we will send you an email to confirm that we have received your order request. Once we have verified the price and availability of the goods we will email you again to confirm that your goods have been despatched to you which signifies that a contract has been made between us. Every effort is made to ensure that our estimated delivery times are met; however occasional delays in delivery due to unforeseen factors are inevitable.
Expert Verdict shall not be held liable for any delay or failure to deliver goods within our estimated delivery times. In the unlikely event that the goods are no longer available, we may supply you with substitute goods. If you decide not to accept the substitute goods, you will not have to pay to return them to us. As standard the order charge will include a non-refundable charge for postage & packing.
Price Policy
Promotions are subject to availability and are not an indication of availability. Offers may be changed or withdrawn without notice by Expert Verdict at any time. We reserve the right to cancel a promotion or reject redemption of a promotional code.
Price Policy on Clearance/Sale Prices
In some instances, items may have been sold at their original prices on the website, or in the catalogue of one of our Scotts & Co. sister companies, and items may not necessarily have ever sold previously on this company's website. Details of all the Scotts & Co. brands are available on request. We always strive to bring our customers the best possible offers and deals whilst looking to operate fair commercial practices without misleading our customers. Where we detail price reductions on our website the following pricing policy shall apply: The 'WAS' price shown next to an item on this website is the highest price at which the item has been offered for sale in the last 12 months by us or one of our sister company publications (details on request). Some items have been offered for sale at a price lower than the 'WAS' price during the last 12 months but, unless otherwise indicated, the 'NOW' price shown is the lowest price at which the item has been offered by Scotts & Co. Details of intervening prices are available on request. In all cases the 'WAS' price will have applied for a continuous period of 28 days or more.
Promotions
Promotions are subject to availability and are not an indication of availability. Offers may be changed or withdrawn without notice by Expert Verdict at any time. We reserve the right to cancel a promotion or reject redemption of a promotional code.
Payment Policy
All orders must be paid for in £ sterling. Expert Verdict accept payment via the following credit and debit cards: Visa, Mastercard and American Express, subject to verification and in addition: PayPal and Google/GPay for online orders. We will take all reasonable steps to ensure all the information provided by you during payment is secure by using an encrypted secure payment mechanism. However, in the absence of negligence on our part, we will not be liable for any loss that you may incur in the unlikely event that a third party gains unauthorised access to any information you provide to us. Where you have paid by credit or debit card, the card will be charged at the time your payment is approved by us. If you have paid for Products which we cannot supply, we will refund you as soon as possible. Please note that for security reasons, we are obliged to cash all cheques on receipt of order. The order total value includes VAT at the applicable rate and the cost of standard delivery. The price excludes the cost of Special Delivery of the Products. Details regarding our delivery options, including Special Delivery, are available on the Delivery section.
Delivery
No matter how many items you order, our standard delivery is just £6.95 to the UK Mainland for orders made online, by phone or post.
We despatch all items as soon as they are available, so parcels may arrive separately. In stock items are delivered on average within 5 days – although we ask you to allow up to 10 days. We deliver to Northern Ireland, Scottish Highlands, UK Islands, Isle of Man, Channel Islands and BFPO addresses. Regrettably, at the present time, we are unable to ship orders to Eire or any other address outside the UK. If you purchase from our site your order is placed subject to the terms and conditions. If we have your email address, we will email you to keep you informed every step of the way with order confirmation, despatch, tracking and delivery details.

Returns
Customer Satisfaction Guaranteed

How to Return an Item
Making a return is easy. All we ask is that you follow the procedure below so that we can process your return as quickly as possible. If you have any queries, please email [email protected], or call us on our Enquiry Line 01444 462798.
N.B. if any items are received damaged or faulty, please telephone us within 5 days of receipt and we will be happy to assist you.
1. You may return any item within 28 days of receipt for a full refund, replacement or exchange. 2. Please complete the form enclosed with your product stating the reason for your return.. 3. Enclose the form in the parcel. 4. Goods should be returned unused and in their original packaging. 5. Peel off the returns label and stick it to your parcel (make sure no other labels are visible). 6. Take to the post office, affix stamp and retain proof of postage. 7. For heavy items if you would prefer for us to arrange a collection then please email [email protected] or call us on 01444 462798, and we will arrange for our carrier to collect the item and deduct the cost from your final refund.
Returns Scotts & Co, Unit 3, 1 Crompton Road, Groundwell Wiltshire SN25 5AW Please allow up to two weeks for the refund to be processed.
Our Returns Policy
If you're not happy with your purchase, please return within 28 days unused and in its original packaging for an exchange or refund.
We do not accept returns on: Software; Personalised and Bespoke items which are made for you; Perishable items (food and alcohol); Hygiene-sensitive items (including pierced earrings, underwear, pillows, mattress-toppers and duvets, beauty and grooming items, supplements and oils), unless faulty. This does not affect your statutory rights.
• We will credit the full amount to the original purchaser's payment card excluding any shipping costs. • We only pay the cost of returns in exceptional circumstances. • Card refunds can take up to 10 working days to be processed by your Bank. This varies between card issuers and unfortunately, we are unable to influence this. • Returned parcels remain the customer's responsibility until safely received by us. We recommend you obtain proof a certificate of posting. Parcel insurance is recommended when returning goods valued over £30. • Replacements or refunds for exchange of damaged or wrongly selected goods will not be processed until the original items has been received back in our warehouse. • If goods which form part of a 'bundle offer' are returned for a refund, then the remaining items will revert to their normal price. You will be refunded accordingly. • The company reserves the right to refuse a refund if the condition of the goods reflects normal wear and tear. All refunds and replacements will be processed on receipt of the returned items.
N.B. if any items are received damaged or faulty, please telephone us within 5 days of receipt and we will be happy to assist you.
Restricted products – by age
UK law does not permit us to supply restricted products to persons under a specified age. Any person under the specific age must not attempt to purchase any of the following products. The age restriction applies to the recipient of the product.
• Minimum age of 18 – Products containing alcohol (visit www.drinkaware.co.uk for further information), Bladed items • Minimum age of 16 – Party poppers • Minimum age 12 – Christmas crackers and variable age items as specified on the packaging of the product i.e. DVDs/Blu-Rays
Please note items marked 3+ have small parts and are a choking hazard.
Cancellation
When you order with us online, by post or on the phone, you are covered by the Consumer Contracts Regulations 2013. This means that you have the right to cancel your order within 28 days of receipt of your goods and to receive a full refund, apart from flat pack items which you have partially or fully assembled, and bespoke or personalised products made to your specification.
• You are entitled to cancel your order if you so wish, provided this is done no later than 28 days after the day on which you receive the goods. • To exercise your cancellation rights you must inform us in writing to Customer Services (address details below). Please include details of the order (order number and description of goods), your full name, customer number, postal address, phone number and, if applicable, email address. • Please note that your cancellation rights do not apply to bespoke or personalised goods which have been made according to your specifications, or to items which by reason of their nature cannot be returned, or are liable to deteriorate, or expire rapidly such as Software; Personalised items which are made for you; Perishable items; Hygiene-sensitive items (including pierced earrings, pillows, mattress-toppers and duvets), unless faulty. This does not affect your statutory rights. • You are obliged to take reasonable care of the goods, ensuring the goods remain unused and in their original packaging. When we receive the goods from your cancelled order we will reimburse you within 14 days via the payment method used for the original transaction and to the amount in relation to goods to which cancellation rights apply. • As well as the value of your goods, we will reimburse the standard delivery charge associated with the original order. Express or any supplementary delivery charges will not be refunded. A deduction from the reimbursement may be made for any goods returned in an unsatisfactory condition as a result of unnecessary handling. • If you cancel within the statutory period you may claim a refund of any sum you have paid for the goods, less any charges we incur if you do not return them at your own cost. If an item has already reached our despatch channels and it is too late to cancel, we ask that you return the item(s) to us. If goods on which a discount/offer was originally received are returned, that discount/offer may no longer apply if you fall below the discount/offer threshold. • If you have any questions please email [email protected], call us or write to: Customer Services, Expert Verdict, Cotswold House, 1 Crompton Road, Groundwell, Wiltshire, SN25 5AW.
Product Specifications
All items are subject to availability and all dimensions are approximate.
Stock Availability
Any orders placed through the website are considered subject to there being stock available. Although we do our very best to predict demand for the items featured in our collection, unfortunately we are not able to ensure permanent availability for every item. All orders are subject to availability. Receipt of an order via our website and emailed confirmation to our customer of receipt of an order do not constitute acceptance or guarantee fulfilment of an order. If an item is flagged as 'Low Stock' it can still be added to your shopping bag and we will notify you should we not be able to fulfil your order. If an item is shown with a 'No. of Weeks Wait' or a 'due date' you can still add it to your shopping bag in order to reserve it in your chosen colour and size. The item will then be despatched to you as soon as it arrives at our warehouse. If you are paying by credit or debit card, please note that your card will be charged upon ordering. To check the status of your order online, click on the 'My Account' link. Please contact our Customer Care Team by email at [email protected] if you have any queries regarding stock availability.
Copyright & Trademarks
The content contained within the pages of this site (including pictures, photographs, images, logos, written text and other materials) is the copyright trademark or registered trademark of Scotts & Co., their partners, or their content and technology providers. All rights reserved. Permission is granted to our customers to copy, print or download extracts of material on this site, providing that this is for the purpose of placing an order with us or other non-commercial, personal use. Any other use of materials on this site, including modification, distribution or reproduction, without prior written consent from Expert Verdict is strictly prohibited.
Order Acceptance
We may not be able to accept your order, or part of your order, due to one of the following reasons:
• Authorisation of your payment failed • We made a pricing or product description error
VAT Exemption Information
Products that have a banner reading "VAT Exempt" means these products are available to purchase VAT free providing you meet HMRC criteria.

VAT Exempt orders can only be taken through Customer service calls or Mail orders received through the post.

For more information click here.
Recycling
Recycling your old electricals is easy!
Recycle your electrical and electronic devices free at your local recycling centre. To find your nearest centre, visit the Recycle More website and type in your postcode.
Why recycle? Unwanted electrical equipment is the UK's fastest growing type of waste.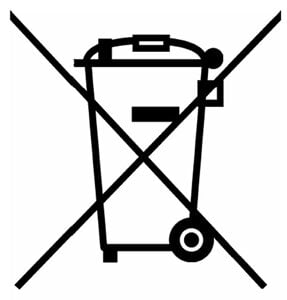 Many electrical items can be repaired or recycled, saving natural resources and the environment. If you do not recycle electrical equipment will end up in landfill where hazardous substances will leak out and cause soil and water contamination – harming wildlife and also human health.
We're proud to support your local authority in providing local recycling facilities for electrical equipment.
To remind you that old electrical equipment can be recycled, it is now marked with the crossed-out wheeled bin symbol. Please do not throw any electrical equipment (including those marked with this symbol) in your bin.
What is WEEE?
The Waste Electrical or Electronic Equipment (WEEE) Directive requires countries to maximise separate collection and environmentally friendly processing of these items.
How are we helping?
In the UK, distributors including retailers must provide a system which allows all customers buying new electrical equipment the opportunity to recycle their old items free of charge. As a responsible retailer, we have met the requirements placed on us by financially supporting the national network of WEEE recycling centres established by local authorities. This is achieved through membership of the national Distributor Take-back scheme (DTS).
To find more information on WEEE recycling and to locate your nearest recycling centre please visit the Recycle More website.
Waste Battery Regulations
Under the Waste Battery Regulations, Scotts (2023) Ltd are now offering a take-back scheme for all portable waste batteries. You can return your waste batteries to our business premises in person. Alternatively, you can find your local portable battery recycling facility at www.recyclenow.co.uk.
Telephone Charges
Charges for 03 numbers are the same as standard UK landline numbers starting 01 or 02. Calls to 03 numbers are often included in bundled minutes and unlimited call packages. Calls to 0844 numbers cost 7p per minute plus your telephone company's access charge. Please contact your provider for more information. All calls may be monitored and recorded for training purposes.